My first full year at BPRISE, the company I co-founded in mid-2016, has been very much like the opening lines of A Tale Of Two Cities. However eventful the journey so far, there has been a learning curve at every juncture. I thought I'd share some of those prickly lessons and pearls of wisdom with you, as we introspect on the year gone by and toast to the one to come…
1. Is The Market For Your Product, Desperate Enough?
Start-ups have been fashionably sprouting all over the global spectrum for years now. But only a few survive. Does your start-up satiate a thirst and hunger for a service or item? That should be the first logical question you ask yourself. Look for signs like customer acquisition costs going down, exponential demand and revenue growth (on a weekly basis) and the virality of word of mouth. If you don't find a convincing enough justification, then you quite simply, have no business! Start off on the right foot, so that the journey ahead is on solid ground with real potential.
2. Do you have a problem?
I've always believed that solving a big problem is a bigger deal and leads to a huge business opportunity. Do your buyers have urgent needs that need to be addressed as soon as possible? Great! That means they are more likely to adopt your solution AND pay a premium for it. Put every idea you get through the test, of whether it solves a big conundrum or not. You can't build a billion-dollar company without solving a billion-dollar problem or one that a hundred million people are willing to pay for. If Facebook today is almost a $500 billion company, it's because it addresses one of the humans' most urgent needs: The need to be Social, according to Maslow's hierarchy of needs.
3. Start With Part-Time. Grow into Full-Time
Start-up initiation is mostly about having a smart, self-starter attitude. Most Hall-Of-Famers start out as garage bands. Every entrepreneur may not be able to work full time at a start-up from the get-go. Even a part-time commitment can be a decent beginning. Ideating, meeting with a bunch of potential users, building a testing version of the product, seeking user input – all of this can be done on the weekends or for a few hours every other day. Baby steps, till you're able to walk with a full team and a structured venture is better than doing nothing. Have a clear target plan of what it will take to quit your current job to run the start-up full time. 10 paying customers or 200 active users? About $2000 in monthly revenue? Or A $10,000 investment? Work toward whatever the goals may be, so that even on a part-time basis, you can eventually turn the side-gig into your owned and operated outfit.
4. Put the Pro in Prototype
A prototype is a functional or visual example of what you envision building in the future. Potential customers, Investors and/or Team Members are who you would typically build one for. When potential buyers see how a product might look (visual prototype) or work (functional prototype), it becomes easier for them to believe in its value. A prototype could make ideating and brainstorm with your team much easier and possibly, even get you funded.
Personally, I didn't need to spend money producing many units of the actual product, just to sell my idea. I gave presentations to a couple of big banks and heads of large agencies armed with just a laptop and something that looked like a full-size motherboard sprouting wires from every end. Not a pretty sight, but it helped me confidently prove my point and notice what exactly the customer appreciated it.
5. You And What Army?
Just because you've started up with a gem of an idea, frame-worthy vision and unshakable passion to build the next big thing, doesn't mean that it's a sure slam dunk just yet. Human Capital is what drives every success story. Investors and accelerators always judge a founder by the company he or she keeps, quite literally. So, while it may seem obvious to hire key talent who are aptly qualified for various positions, they should share your parental passion for the start-up and express vows for the long haul. Make it a priority to be very selective about your hires, so that partners, potential VCs, and clients recognize this value and seek to join the club.
6. Hi, I'm Jack. Of All Trades.
Sure, founding team members each have unique designations and departments on their business cards. But the reality is that all their cups runneth over. Sometimes, a business development or marketing professional might be M.I.A, so the founding members need to step in and multi-task. Teething issues and responsibilities like programming, recruiting, customer service, cheerleading, and designing need to be shouldered by the founders, over and over again. Now granted, you might not necessarily be a trained programmer yourself, but that doesn't absolve you of your duties. Having a basic understanding of new technologies and knowing a little bit of everything will only help you propose viable solutions, evaluate teamwork and hire the best. This can be painful since you might not be spending much time perfecting the craft you love. But along the way, you will pick up complementary skills that will only boost your core talent. Once your start-up grows to a position where it can afford to build a bigger team with leaner KRAs, then you can go back to be the Master of One. Just like your card says!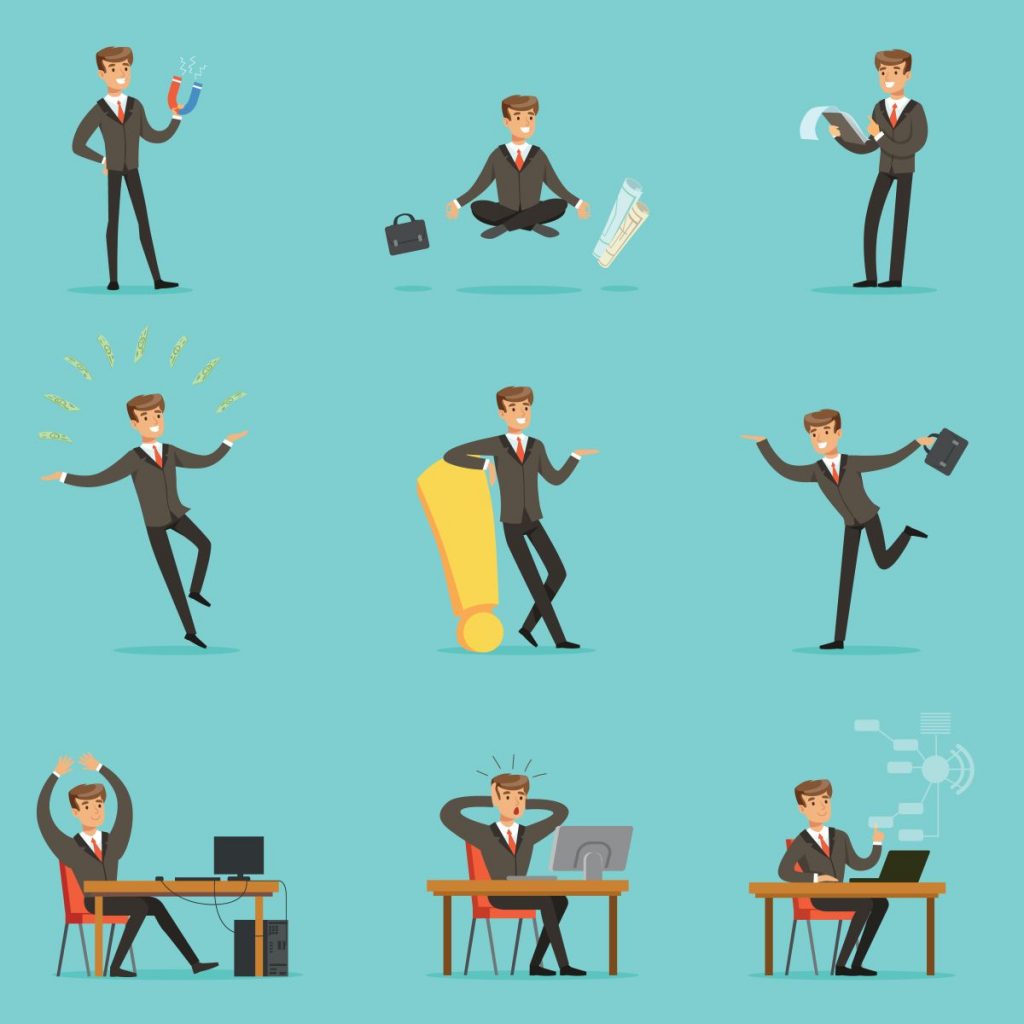 7. Don't Be A Big Fish In A Puddle
The modern-day Confucius – Jack Ma advises to 'hire people with superior technical skills than yours". He couldn't be righter. You can win a running race by outsmarting peers who are not as good as you. But, if you train with the best of the best, even if you are placed last in the race, you'll have timed better. High levels of competence in a company only help soar efficiency rates and speeds progress by default. So, hire smart people and then listen to them.
8. Are They Positive?
It's not enough to stay hungry and foolish. You've got to stay positive too! I had a major falling out with an employee, only because of their negative attitude. I've come to realize that you can always train people to carry out certain tasks and handle certain machines, but professionalism and positivity are character traits that come inbuilt for the most part. Your quarterback may "Show You The Money", but if he is a big sourpuss, then his vibe might bring the rest of the team down and cost you that Super Bowl. Headhunt people with enthusiasm and a sporting spirit.
9. All Aboard?
Airbnb's Brian Chesky, like many other entrepreneurs, had to deal with quite the Catch 22. At the start of the journey, no travelers would come to the Airbnb website without accommodation listings and no homeowners would list their space without legitimate travelers on the site. Chesky said that he had to build the business, literally one home at a time, block by block, street by street and city by city. We too, at BPRISE, find it tricky with publishers and advertisers being our proverbial chicken and egg. This period of setting up meetings with clients and time flying by as we wait for early deals to culminate is stressful, to say the least. The ship can only start to sail once you have those initial clients and partners on board. Our unwavering faith, zen-like patience, and persistence are what will see us through the painfully quiet work days.
10. Plans Change. So Should You.
Most start-ups end up charting a course that's different from the one that was initially sketched. This is normal and typically has little to do with having industry knowledge or experience in the line of work. There are many factors that could spoil your ideas and carefully planned projections. Don't be too precious about them. Everything happens for a reason and change should be embraced as chances for better ideas and directions to present themselves.
Remember that the battle plan is the first casualty of the war. As soon as the first bullet is fired, the plan goes right out the window.
11. Draw A Budget & Pinch Pennies
In the business world, especially for start-up entrepreneurs, financial prudence plays a crucial role in the sustainability and transition from a small-scale boutique business to medium or large-scale organization. The initial euphoria of a newly established venture distracts entrepreneurs from keeping an eye on the cash flow statement. Many start-ups fail because of overspending. So, restrict withdrawals to adhere to a strict budget and regularly review it with discipline.
Don't be ashamed to hunt for bargain deals online and at nearby stores. Strict financial discipline is a habit. Unnecessary spending leads to business failure.
12. Sales. Duh!
No matter what kind of company you run, the mission statement is one and the same across the board: 'Decrease Overheads, Increase Revenue'. It's very easy to lose yourself in the day to day affairs of operating a company, creating systems, corresponding to emails and updating social media pages. But do you have your eye on the prize? Are you acquiring new customers and improving sales? Isn't that what you work for? Make sure you are staying productive and profitable with everything you and your team do. Segregate tasks into billable and non-billable jobs, evaluate the time spent on different accounts and make every action and person accountable for the bottom line objective. Because without customers and sales, what you have is not a business, but an expensive hobby!
To sum it up…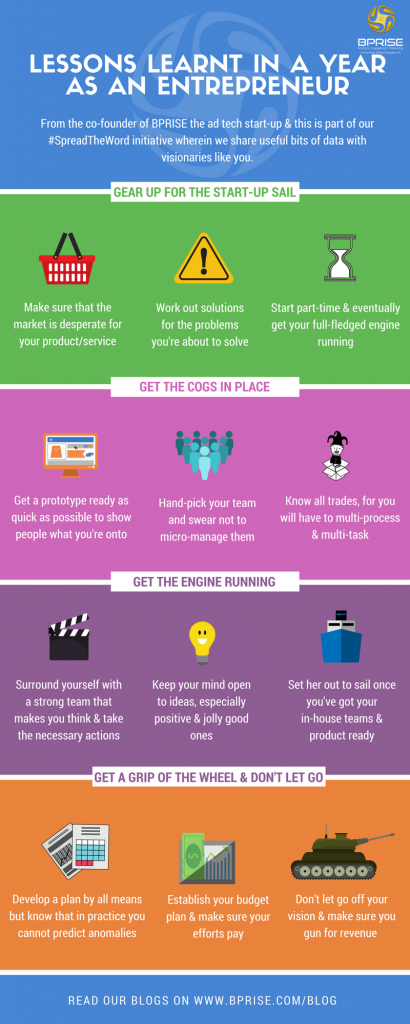 The start-up race is started by tens of thousands, but only half of them take the first steps. A mere hundred emerge from failures and even fewer make it to their first 'ka-ching'! The ones who survive are living proof of perseverance and competitiveness. That's what sets apart the dreamers and thinkers from the doers. It's the survival of the fittest out there, so strap on your best-armoured suit and don't forget to take notes while you battle on.