I often have thought of technology as an extension of human behaviour. It is evident in the way technology has evolved through the ages. From riding horses to carriages to cars to planes and now even to space crafts. We first invented solutions that reduced laborious work and then went on to build complex systems that have propelled humans into space and even beyond. But irrespective of all the new technology we invent, our basic needs remain same and necessity is the mother of all inventions.
Retail sector is no exception to this phenomenon. We can draw many parallels from the ye olde methods of retail that resonate with today's omnichannel solutions. India has been the land of "kirana" (translates to grocery) stores, which can be found in almost every locality and which are thriving despite of the dawn of supermarkets and online grocery giants. Why wait for 60mins superfast delivery, when one can get the product immediately from the store-next-door?
When talking about Omnichannel retailing, often, one gets distracted. The complexity of technology distracts you from the simple solutions that it is set out to provide. When I envision retailing in the future, I will always think of the kirana shops. They have catered the excellent service and personalised engagement that extends comfort and trust.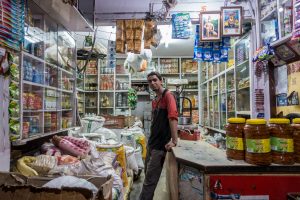 We tend to purchase from those retailers that make shopping hassle free and assuring.
Today, omnichannel retailers complain about the following challenges:
Lack of unified dashboard for viewing insights about their clients across all channels.
Knowing when to reach out to their customers with relevant products & services.
Retailers have already invested and deployed store systems that aren't dynamic and would take too long to upgrade.
Retailer's IT systems were designed to measure sales and not keep track of consumer behaviour.
The Kirana store is relevant and thriving today is because of the following qualities that makes it unique:
Is open at odd hours not 24×7 – Opens store for Milk & Bread sales early 530 am and often closes late at night by 11pm or so to cater to last minute late-night customers. Modern retail needs to be for their customer with relevant products at relevant hours.
Personal rapport – The store vendor calls you "Bhaiyya" or "Bhabhi" (uncle, aunty, big brother etc) and instantly bonds with you over small talk while he fetches your items. He might not remember your name, but does manage to serve personalization with his presence of mind. It is very difficult to up scale the same level of personalization in an omnichannel environment. But with social media connected intuitive tools personalization can be made more human than mechanical.
Extends credit – Accepts cash – Tenders change –These small shop owners extend monthly credit to their loyal customers and maintain a record in a simple easy to understand ledger. If you are short of cash, they accept your order and let you pay ahead. Such services build loyalty and build deeper rapport with their clients. Retailing would always be about experience. Once your store supports the customer through a difficult time, they would stick around with the same vendor for long-long time. The short-term expense/losses that you make while extending discounts etc would lead to long term loyal customers who would always reach out your store first.
Knowing your customer: As you have been purchasing since long, the store vendor suggests products in accordance to your buying behaviour. In your monthly grocery list if you forget to add an item, he would remind you of the same and at times, also suggests new products that would suit your requirements. Modern retail can easily keep track of customers past buying behaviour and intelligently suggest relevant products.
All your efforts to brand, promote and sell your solutions/products go in vain if they are identical to your competitors. Hence aim to customize and personalize each interaction with your clients based on their preferences. Build relations like the nearby "kirana" store owner has and reap long term customer loyalty.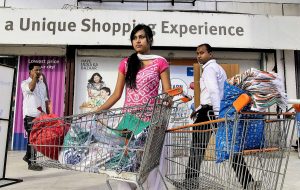 Personalization is Powerful.
It is also difficult to master. It requires real time intelligent insights. In depth customer analytics and relevant dynamic data. Your clients today are present both online & offline. This duality is the key to develop key insights.
At BPRISE, we are analytics based customer engagement company. Our vision is to make marketing innovative and intelligent, which would enhance ROI for your establishment. We built a unified dashboard that visualizes your customer's profiles and helps you take informed marketing decisions to reach your customers at the right time. Our up-to-the-minute solutions help you build focused meaningful campaigns and equip you with relevant insights to drive better sales and effective customer satisfaction.
To know more about BPRISE visit: https://bprise.com/