Personalization is an often repeated topic across the internet. The internet offers a million solutions on how to achieve it. However, we still don't have the perfect solution on how to personalize the communication for a lot of people at one go.
At the heart of anything that we do, there are relationships. More often than not it's the people behind the product who matter, not the product itself. Especially when two products are almost the same.
When I was a kid, we used to pick milk from a local shop. The folks at the shop took the business for granted. They never had change for a large bill and literally fired the daylights out of customers for not bringing smaller denomination notes. None of the other shops nearby stocked on milk, as it needs a good refrigeration facility. Two years later, the shop shut down. Why? Because a young couple opened a new shop in the vicinity. They were a bit far off and not centrally located as the shop I used to visit. But they were an enterprising folk. They always had change, they knew their customers and were always friendly. If something was not there and could be arranged in a short time, they would promise to deliver it home.
The erstwhile local shop that I used to pick milk from, shut down because of it's attitude. Not because of some large retail chain coming and wiping out mom and pop stores.
Today, when I enter a large supermarket or store chain, I do not expect personalization. It's almost as if it's dead.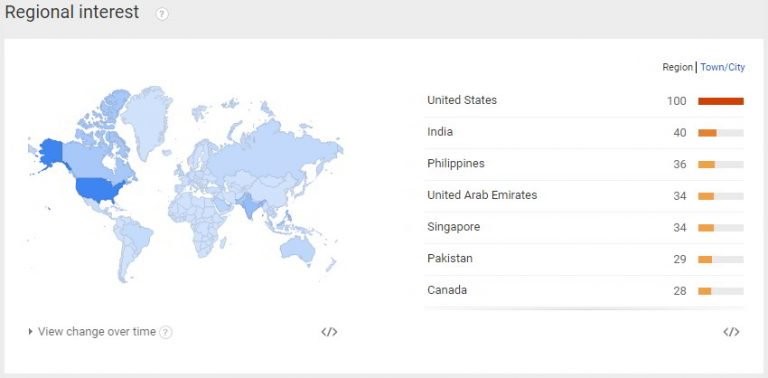 If you see the above Google Trends report on the interest of the word, you will notice some interesting facts. There is a lot of talk about personalization every time and it's increasing every year.
The buzzword has been growing at a slow pace over the years.
It peeks in the month of December. Looks like the Christmas Shopping newsletters are going out with a lot of personalization. Or, large retailers are searching for what is new in this area to plan their strategies accordingly.
Regional interests have some really interesting facts about the countries interested in the word. The top 5 are USA, India, Philippines, UAE and Singapore. Of course, this is skewed data as the term is used only in the English speaking world. There would be an appropriate word for personalization in the Russian language which does not get covered in the trend analysis. However, many other English speaking countries are ranked below – and that is particularly interesting.
At the bottom-line, my feeling is, that this word has only caught up with emails and websites and not so much in-store.
When you personalize, you need to have an omni-channel strategy. Its not enough that your email knows me and your store does not. There is a huge disconnect here.
We don't need reams of write-ups on personalization. Can we return to the good old days of personalization? Can you give me a seamless experience across bank branches, stores and restaurants? Can you make personalization feel less robotic and more – personal?
You are familiar with your bank branch manager, he comes to speak to you when you enter your home branch. That's a personal connect. But what if you went to a different branch today? Then the connection is lost. Wouldn't it be nice to be recognized and taken care when you are at another branch as well?
The same goes for stores. Without being creepy, if you can simply address people by their names and speak to them about products that interested them in the past, doesn't it help? Imagine the increase in R.O.I. per employee and the R.O.I. for the organization! More importantly, you would have a customer for life.
Cross Channel shoppers gave a 30% higher lifetime value to the organisation than a single channel shopper – google
Companies with a strong omni-channel customer engagement strategy had an average of 9.5% y-o-y increase in annual revenue – internet retailer
We know achieving this is a daunting task. It might feel like moving mountains. And that's why we are here. Speak to us to get insights on how we can assist you in building higher R.O.I. across channels and keeping a consistent experience for your customers. Let's bring personalization back – 360 degree.