If I were to get downright real with you, I'd say advertising with a "spray and pray" approach is not really ideal. You do not like ads on your social media pages that are drab and/or generic, basically irrelevant to you; I do not like them either. If advertisers/agencies want to get my attention today, it can be achieved by means of authentic conversations with solutions or product recommendations (read ads) that are truly relevant to me right now. Another approach which may be donned by the brands/agencies that are tempted to do so are controversial and/or polarizing content to win a glance from netizens. All said and done, I for one am down with Facebook's News Feed algorithm update.
Tactics like clickbait and engagement bait are put to practice by certain groups or agencies; clickbait is any content that attracts and encourages visitors like you and me to click on a link to a specific web page (think of headlines like "You Will Not Believe How The Deliveryman Reacted To The Barking Dog" or "He Put Garlic In His Shoe And What Happens Next Is Shocking" et al.) and an engagement bait goads people into liking, sharing or commenting on their posts (think of headlines like "Like This If You Are An Aries" or "Share With 20 Friends For A Chance To Win The New Convertible" or "Comment Below Your Favourite Food Item" or "Help Us Find The Missing Child" et al.).
To address users' feedback on clickbait, Facebook made an update to News Feed ranking to reduce clickbait headlines. With this update, people will see fewer clickbait stories and instead more of the stories that they want to see higher up in their News Feeds like those from family and friends. It must have been quite a relief for those that fell for clickbait when Facebook finally took care of that.
The massively used social network Facebook wants to get back to being a "social" network and are now tackling engagement bait (hallelujah!) on their News Feed. They are set to demote individual posts from people and pages that use engagement bait. Any post that goes against their News Feed value – authenticity – will get demoted. The teams at Facebook have reviewed and categorized countless posts to inform a machine learning model to detect different kinds of engagement bait. They claim that posts that use such a tactic will be shown less in News Feed.
Pages that use engagement bait to gain reach in News Feed need to watch out. Facebook will roll out page-level demotion that systematically and repeatedly use the above tactic. It would be wise of advertisers and publishers to adapt and avoid using engagement bait in their posts by accident.
It must also be noted that the days of reaching the right audience the organic way has dwindled and if you're a brand and you want to reach the most potential customers, you got to pay! The ad rates on Facebook have risen by 35% in the last quarter alone and although John Hedgeman, VP of Product Management at Facebook claims that advertising on the social network will be "unaffected" considering the algorithm update, agencies disagree.
In addition to paying for genuine reach, agencies/brands/publishers will have to work their way with authentic content into the digital eyes of people to withstand the competition against treasured moments with family and friends.
After some major reading online and from my little understanding since working at this humble ad tech startup, I've got the following to say to agencies, advertisers, brands and publishers: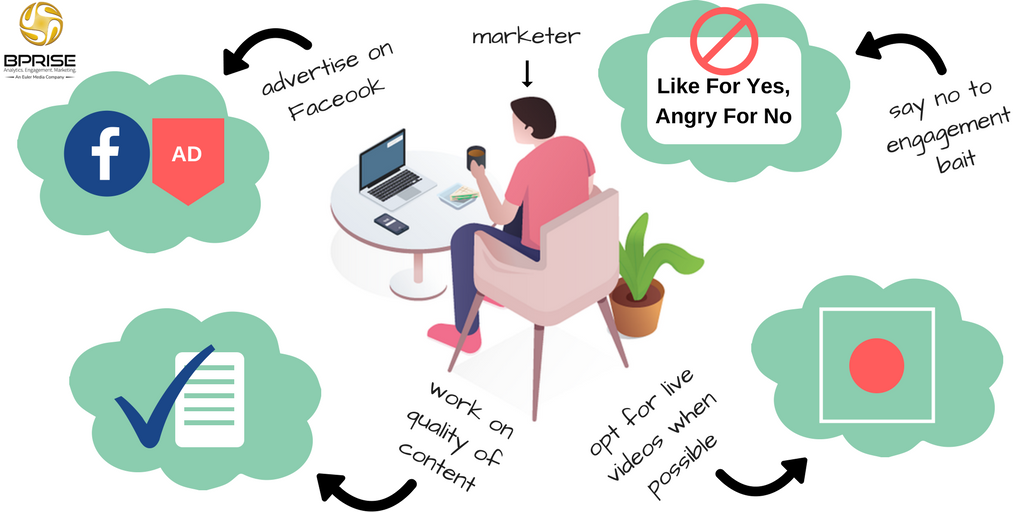 Concentrate more on the quality of the content that fortifies the key brand messages than the number of posts on your Facebook page.

Advertise on Facebook for raising awareness and for promotions.

Stop using engagement bait like "Like for Yes and Angry for No" on your posts as this will not promise reach anymore.

Rely not on Facebook posts with links to your blogs etc. for traction.

Deliver more live videos as opposed to pre-recorded ones; Facebook said that live videos have nearly six times the interactions of non-live ones.

Set up groups to educate people interested in your offers (products/services) as opposed to randomly bombarding people with irrelevant, generic content.

Speak about subjects that are growing and remember that social CRM is key!
In a nutshell, it isn't the end of the world no matter these algorithm changes in News Feed; you needn't panic. Instead, up the relevance of the content you display to your audience, tap into technologies like VR for enriching the user experience, make your content more human, cut the generalization, build on personalization and I can say you'll be thumbs-upped by me for sure!