Here's a go to guide for knowing all about the "new black" in the ad market. Programmatic ad spends grew from $5bn in 2012 to $39bn in 2016, at an average rate of 71% a year, according to Zenith's programmatic marketing forecast. How did you not notice?
Let's Start At The Very Beginning
Programmatic advertising is an automated mechanism that uses computer algorithms to purchase ad inventory. This modern, digitized media buying and selling does away with the traditional agency-network set-up, manual bidding and human optimization. It's the idea and now, a wide-spread practice, that the processes involved in media marketing and negotiation such as inventory selection, data reporting, budget optimization, the back and forth of paperwork and testing of creative inventory; all of this is handled through an automated system.
This is achieved through a sophisticated and efficient assimilation of data, software and technology. Everything from behavioural and intent-based targeting, to real time bidding (RTB) and exchange-based buying of inventory can be credited to programmatic buying.
In English Please!
All you need to input is a range of creatives, your budget and targeting filters as an advertiser. Programmatic Advertising takes over from there. It makes scientific, data-backed decisions about which ad property to display, on whose website, at what price and when. Microwaved popcorn much?
You have two options:
"Direct Buying" takes place against a fixed payment in advance for a specific ad inventory. The objective here, is simply to exhaust a set budget by providing the requisite number of impressions on the selected ad property of a specific publisher.
"Real Time Bidding", or RTB is an auction-based price system for buying and selling ad impressions across sites, on a real time basis. It literally takes milliseconds to launch ad campaigns, sitting at a desk, with a front row seat at the bid wars for inventories across multiple publishers' sites.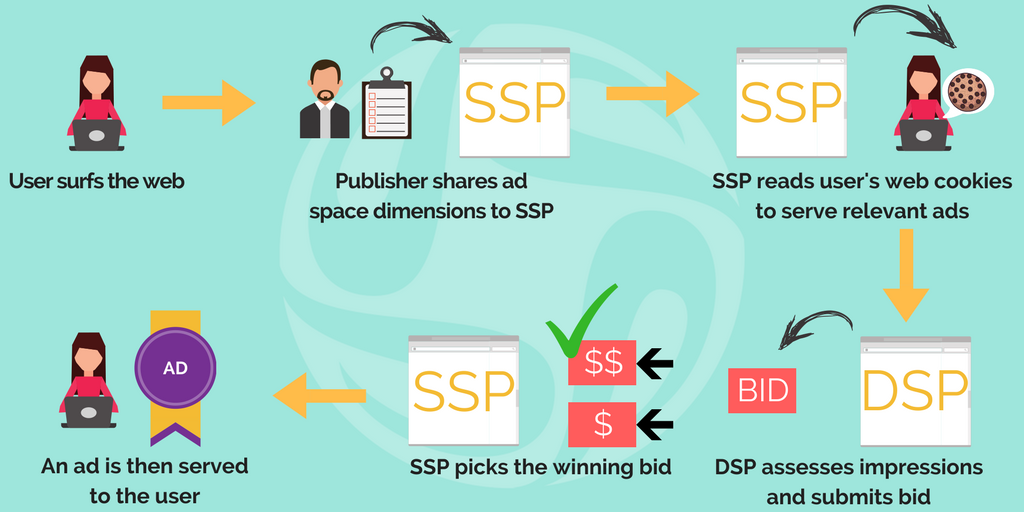 We all know what DSP and SSP means by this point. But the truly powerful acronym of the bunch is a DMP, aka Data Management Platform. The information of what's being sold and bought at what price, is stored here and is presented in a simple manner, displaying how consumers behave across the wider internet. So now, you can predict outcomes, understand audiences and break down media silos at the click of a mouse.
The Good News
With Programmatic Buying, you witness the actual price of ads move before your very eyes, minus mark-ups and agency fees. If you spot that a certain ad creative isn't working on a segment or site, you have the power to immediately switch strategies then and there, in real time. No more waiting for your agency to respond with a monthly campaign report, while those ad impressions burn away; and no more feeling unsure about your return on investment. Have fun with highly personalised messages and refined funnelling processes. The transparency and quickness of it all helps hit the bull's eye over and over again, across any device or channel. You save time, money, energy and nerves!
The Bad News
Woah Woah Woah. Don't fire your media agency just yet though! There are a few downsides to programmatic advertising. Since your ads follow the user's wild travels across the world wide web, you run the risk of displaying ads on questionable destinations. Behavioural and Contextual targeting can be tricky that way, so rein in visibility by blacklisting or whitelisting sites or categories.
But how is this hyper targeting possible in the first place? Programmatic ads rely on cookies to track activities across devices. So, the moment netizens observe computer hygiene and clinically cleanse their system of cookies, all that data is lost and it's back to square one. Big dogs like Facebook and Google are immune to an extent, because they track movement across devices through login status, but the rest, as they say, is browser history! Isn't that how the cookie crumbles?
Another devilish hazard is ad fraud. Domain spoofing experts and bots hike up costs and dupe advertisers with cunning flair. This raises obvious questions on the quality of inventory in programmatic buying. There is an entire article dedicated to that problem alone. Read it here to know how you can keep guard.
So Now What?
In advertising, knowing more about your audiences and being able to access and read data that uncovers insights are crucial. There is no doubt that leveraging technology to drive stronger results from highly relevant, targeted campaigns is a boon. Unanimous adoption of programmatic advertising across multi-channels is fast becoming a reality. Legal updates and private partnerships to curb the above challenges are in the pipeline as well.
As an ad-tech entrepreneur, I advise all brand owners and advertisers to hop on board the Programmatic band-wagon right away. The earlier and faster you join the game, the savvier you'll be at bidding the best price for the right ad. Sold?