When working (or like, surfing the web), I'm often shown ads of goodies I'd be interested in swiping my card for. There is little surprise as to how this show-of-the-most-cool-ads happens, as I work in an adtech startup! Nonetheless, when it comes to shopping online, I'm giving no "site" any benefit of the doubt. What I'm trying to say is that I am not willing (or even cuckoo enough) to enter my card details at a random site just because it displays the "computer mouse" I'm in need of. Say for example, I'm on one of the big retailer sites looking for a black Puma* backpack and I see the same bag displayed in an ad (at a discounted rate of course!) by "BuyGoodStuffForCheapHere.com".
How am I to even know if a third-party, selling goods of a retailer, online, is an approved seller? From my example above, is "Buy Good Stuff For Cheap Here" authorized to actually sell Puma goods? Will I get an original product? Has Puma approved this seller? How would I know? These are a few questions that run around in my head every time attractive ads by various third-party sellers grab my attention.
*The product and company names are trademarks of its respective owners. Use of them does not imply any affiliation with or endorsement by them.
I can also say that the same logic applies to brands buying ads programmatically. But, luckily for them, in late June, the IAB Tech Lab set up a method permitting brands to confirm that a third-party offering space on a publisher's site is really approved to do so. This is called "Authorized Digital Sellers or ads.txt". And as the name clearly suggests ads.txt is a simple text file uploaded to a publisher's site listing the official sellers or resellers of the publisher's inventory along with the publisher's ID for buyers to match. Though it might be difficult for a publisher to list the unique IDs its sellers and resellers use to identify its inventory, it has been identified as an efficient means to fight fraud in the marketplace.
Given that ads.txt takes care of the authorization process, entities that are granted permission can access the designated areas. However, if an entity is not properly authenticated it can easily access areas it shouldn't. Now, say for example, I order a super-duper expensive designer bag from a well-known ecommerce site. There are fraudsters along the way ready to swap my bag for a cheap one without the knowledge of my courier company. And since my transaction is happening online, I will need a way to make sure that that the bag is indeed the one that was sent by the store, i.e. I need to authenticate the source of my bag. What if the store were to send me a unique digital tag number imprinted on the bag and send the same to me via email? That way when I receive the bag I can verify that it came from the right source. Similarly, in the programmatic buying business, advertisers/buyers can now know of the authenticity of an inventory's source with the help of ads.cert – an authentication initiative by IAB Tech Lab.
Ads.cert is a follow up to ads.txt by IAB Tech Lab and it uses cryptographic security measures to authenticate inventory.
Ads.txt can help authorize inventory sources and ads.cert can help authenticate the same by creating a "signature process". Publishers can now incorporate cryptographically signed bid requests on showing the path of inventory thereby authenticating the inventory. This process will be able to certify units of inventory coming from verified publishers. This digital signature prevents fraudsters from tampering with the inventory simultaneously letting buyers verify a specific site's inventory. Ads.cert can block any manipulations done to variables like device, domain, IP address, location to make it look like valuable impressions. Now everyone in the supply is required to provide and signature; this promotes good behavior and is a means of tracking bad behaviour.
I have simplified this further and prepared an infographic that lists why ads.txt and ads.cert is actually important to you if you're part of the programmatic's supply chain…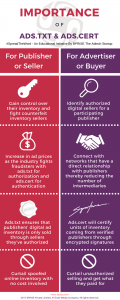 If you're a publisher or an advertiser give us a ring to take your ad inventory game to the next level, well whaddya waiting for?